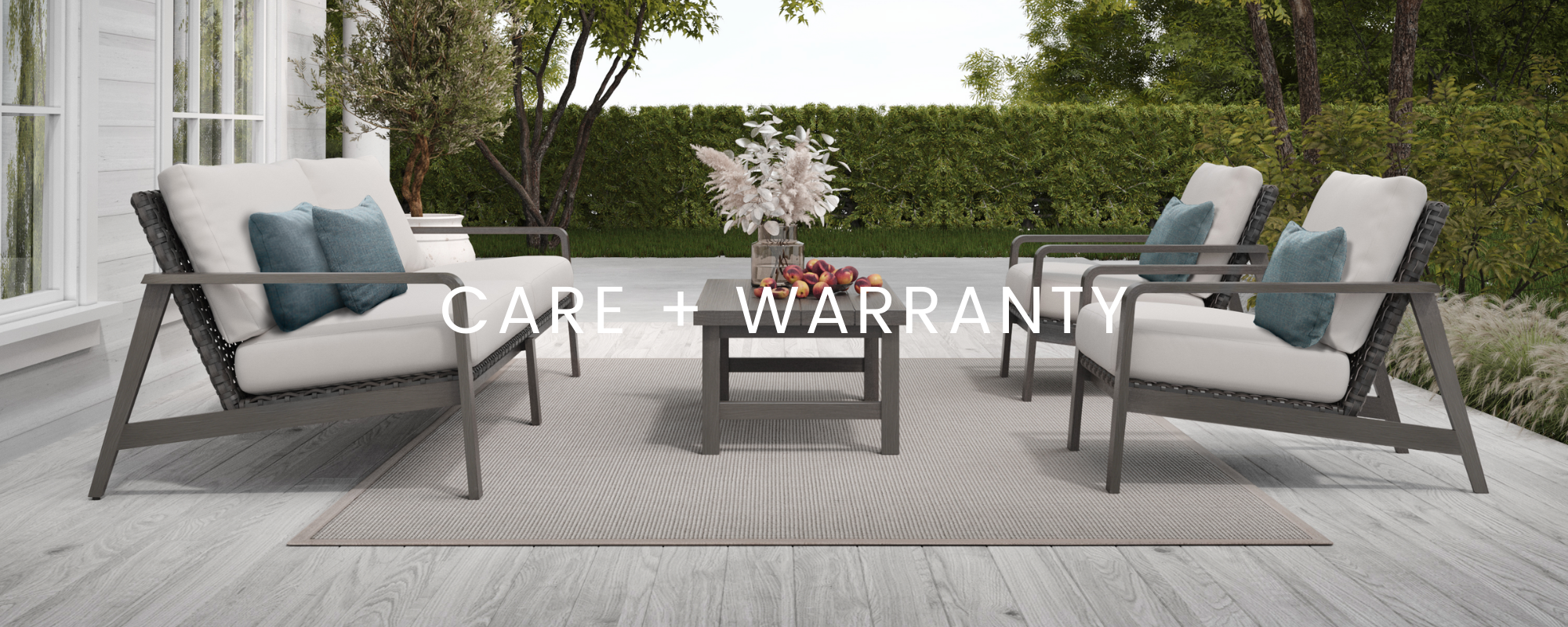 Not only is Ebel's outdoor wicker a relief on the environment, but it's also a breeze to maintain. This 100% weatherproof polyethylene weave allows for quick and easy cleaning with household cleaners. Ebel cushions and pillows are warranted for a period of one year. Cushions should be dried prior to storage to avoid mildew and cleaned professionally if heavily soiled. Enjoy years of comfort and satisfaction knowing Ebel's 15 Year Limited Warranty covers any defects in materials or workmanship.
Full warranty is detailed in the dealer price list. Warranty exclusions consist of damage caused by acts of nature, unreasonable or abusive use, broken glass, spline that has been cut, and improper care or maintenance. Do not hesitate to contact your local dealer with any questions concerning the warranty or any Ebel products that interest you.
With Ebel, you receive not only the satisfaction of helping the environment but the reassurance that you'll be able to do so for years to come
A consistent schedule of cleaning the surface will help remove dirt, grime, and other surface build-ups that can help keep your furniture looking new.  Over time, powder-coated finishes exposed to the elements may show signs of weathering such as reduced gloss and slight color loss. Use a non-abrasive soap or household cleaner and wipe aluminum, woven, or Reserve pieces with a soft cloth.  Furniture can be rinsed with hose water.  We do not recommend using chemical cleaners such as acetone, alcohol, mineral spirits, or lacquer thinners.  Any type of chemical that is harmful to the powder coat surface should be removed or cleaned immediately.  Avoid using pressure washers.
All of our outdoor performance fabrics are designed with durability and cleanability in mind.  Regular cleaning of your cushions will keep them looking new and spot cleaning is quick and easy when accidents happen.
Be sure to remove any loose dirt first by brushing off loose dirt or shaking them off.  Test a small, inconspicuous area to make sure the cleaner will not affect the color of the fabric.  Spray a household cleaner on the fabric and use a soft bristle brush to clean.  Rinse thoroughly to remove all of the cleaners.  Air-dry the cushion faster by unzipping it.  Never put cushions or cushion covers in the dryer.
Fire pits accommodate 25 lbs. of fire glass, sold separately, and available in 19 colors.  Ebel Fire Pits are designed to be used with standard 20 lb. propane tanks.  Conversion kits to convert to natural gas are sold separately and require professional installation.  Flame height is adjustable and produces up to 55,000 BTUs.  All fire pits are CSA approved.  If your fire pit is directly exposed to precipitation, a cover is recommended when the fire pit is not in use.
Ebel Inc. Fire Pits are designed for outdoor use only.  Do not store or use gasoline, or other flammable vapors and liquids in the vicinity of this or any other appliance An LP cylinder not connected for use shall not be stored in the vicinity of this or any other appliance.
This appliance must be supervised at all times.  Do not leave the fire pit unattended.  Serious personal / property damage or injury may occur if the fire pit is left burning while unattended.
If you smell gas:
Shut off gas to the appliance
Extinguish any open flames
If odor persists, leave the area immediately
After leaving the area call your gas supplier or fire department
Failure to follow these instructions could result in fire or explosion, which could cause personal injury, death, or property damage.
This appliance can produce carbon monoxide which has no odor.
Using it in an enclosed space can result in death.
Never use this appliance in an enclosed space such as a camper, tent, car, or home.